Yoga Retreats Ibiza
New Years Yoga Retreat Ibiza 2020/2021
26 Dec – 2 Jan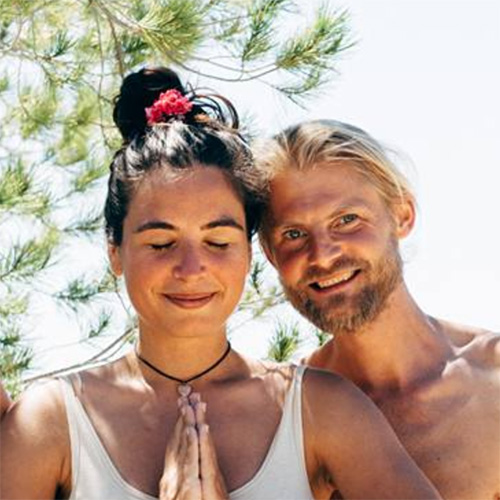 Nourishing New Years Yoga Retreat 2021
Warm your body, Heart & Soul this winter on magical Ibiza during the most transformative time of the year. A perfect moment for you to close off the old and create space inside yourself to welcome the new.
The New Years Yoga Retreat is an invitation to step fully into your authenticity, your True Self in 2021. Join me for a nourishing and transformative yoga week on Ibiza and flow peacefully into the New Year!
Deepen the connection with your self.
Embrace your self with comfort and warmth.
And set clear and inspired intentions for the New Year.
What to expect
Experienced and passionate Yoga teachers Laura Tabrizi and Wouter Smit welcome you for a week full of Relaxation and Nourishment on and off the yoga mat. We gather at a stunning, luxurious location in the mountains of Ibiza to deeply unwind, rejuvenate and reconnect with ourselves.
Expect a full week of heartwarming & inspiring yoga, meditation, purification rituals, breath work, dance, sauna, silence, positive Ibiza vibes, cosy evenings in front of the fire place with like hearted people and healthy homemade vegetarian/vegan food.
"The winter is our favourite time on Ibiza. You have the beaches all for yourself and the vibe is very calm and relaxed. With mild and pleasant temperatures varying from 14 up to 22 degrees, it is the perfect climate for outdoor yoga and beautiful nature hikes.In the evenings, we retreat to our big loungy living room to spend time in front of the fire place sharing music, laughter and meaningful conversation."
Start the New Year treating yourself with deep relaxation, new inspiration, clarity and a warm heart. Surround yourself with like minded souls, nature & healthy food.
Be ready to shine into 2021!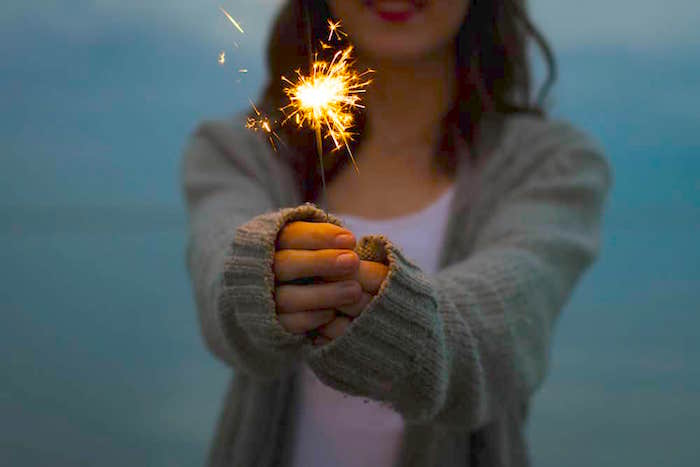 For who
First of all for those in need of a nourishing and heartwarming space to unwind, relax and get clarity and inspiration for the New Year 2021. But be aware, this is not just a yoga holiday! It is also a week of deep healing, transformation and self-discovery.
You are invited to stretch and discover yourself beyond your comfort zone, roles and patterns. The Yoga, meditation and other practices that are shared this week are designed to make you more quiet inside and help you recognise what you are beyond the limiting thoughts and beliefs you have about yourself and the world.
This Ibiza New Years Yoga Retreat is for all of you that are ready to dive deep within and discover what is blocking you from being happy, at ease and in peace with yourself.
To get most out of your New Years Ibiza Yoga retreat, we encourage you to stick to our vegetarian/vegan diet and not to drink any coffee or alcoholic beverages (also not on New Years Eve) during this week.
Practitioners of all levels of yoga are welcome and especially those people who wish to have a deeper understanding of who you are in Essence.
We warmly welcome you to join this life changing week and come Home in your Heart!
Program
We start the day early with a sunrise meditation and breath work. The breathing exercises give you immediate clarity of mind and an energised sense of calmness, a perfect way to start the day!
After some fruit and tea it is time for our daily morning Vinyasa Yoga class, to arrive in the body, ground ourselves and clear our minds. The yoga classes are suitable for all levels.
A healthy, homemade vegetarian/vegan lunch is waiting for you right after class, made by our very own chef.
In between our morning yoga and our afternoon program there is a good amount of free time to lay down with a book around the pool, explore the nearby beaches or book a relaxing massage with one of our amazing massage therapists.
In the afternoon we offer a wide range of different activities varying from Yin Yoga to nature walks, from Purification Rituals to authentic sharing circles. All designed to quiet down the mind and rediscover your inner peace.
After a tasteful vegetarian dinner we gather around the fireplace. And at some nights we have a special night program like our New Years Celebration, sauna ritual, ecstatic dance or guided meditation.
The mornings are spend in noble silence, this means we don't talk among each other in order for you to have the opportunity to become more quiet, contemplate and integrate your experiences and find new inspiration for the new year ahead!
Highlights
Daily Yoga & Meditation
Re-connect with your True Self
Set clear intentions for the New Year
New Years Celebration with Dance
Silent Mornings
Yoga Nidra
Nourishing Healthy Meals
Accommodation in luxury villa
Sacred Ceremonies
Beautiful nature walks
Breathtaking Sunsets
Ecstatic Dance
Kirtan Night
Authentic Sharing Circles
New Years Dive
Use of sauna, jacuzzi and cold pool
Free time to enjoy this paradise
About the host
Laura Tabrizi is your host during this New Years Yoga Retreat on Ibiza. She started sharing Yoga from the age of 19, feeling so happy that she discovered this ancient wisdom about body, mind and soul at a young age. Laura is a certified Ashtanga Vinyasa Yoga teacher and developed a deep love for Yin Yoga and Women Empowerment teachings.
Over the years she created her own unique style, which she likes to call Mediterreanen Flow Yoga. A relaxed and gentle form of yoga intuitively unfolding in the present moment. Her authenticity will inspire you to let go of limiting thoughts and beliefs and just be your authentic self. Laura is happily inviting you to surrender into the bliss of Being.
Laura is hosting Yoga Retreats since 2013 on her favourite islands in this world, Ibiza & Bali. Recently she also start giving Women Retreats to inspire women to reconnect to their Divine Femininity. She feels a strong calling to empower women to step into their fullness and let the Feminine rise.
"I am not a super women, guru, goddess or even teacher. I just share with you my love and passion for discovering beauty and Truth within. I hold space for those who also feel called to reconnect and merge with our True Nature – the source of infinite Peace and Joy. – Laura"
Location New Years Yoga Retreat Ibiza – December 2020/2021
The Ibiza New Years Yoga Retreat takes place in a stunning and spacious luxury villa  located on the west (sunset side) of the Island. Surrounded by mountains, blue sky and sea, the view and feels here are breathtaking!
There is a huge outdoor wooden yoga deck that overlooks the pool and ocean. But if the weather is not pleasant enough to practice yoga outside we retreat to the cozy indoor living space (100m2)  in front of the fire place.
There are several room options available with different prices. You can choose to stay in a Shared Twin or Triple room or book your Private room. Ask us for availability. All rooms have a bathroom en-suite, AC/heater and a balcony.
Shared Twin Room with ensuite bathroom, price p.p €1350
Private Double room with ensuite bathroom, price p.p €1800 (full)
Shared Twin Master Bedroom with Jacuzzi, price p.p €1450
Shared Triple room with ensuite bathroom, price p.p €1300
Wooden Cabin Shared Twin, ensuite bathroom, price p.p €1200
Wooden Cabin Private, ensuite bathroom, price p.p €1500
The house has a large living space where you can nestle in front of the fire place with a book or just rest. And there is a beautiful garden with infinity pool, Jacuzzi and sauna.
It is about 25 minutes drive from Ibiza Airport to the retreat venue. It is recommended to rent a car for the week, if you want to feel free to move around and discover more of the island.  It would be great if you can team up with other participants and rent a car together to get to the house. Ask us for the best deals.
Looking forward to see you here in Ibiza paradise!
Check-in Saturday 26 December from 18.00 
Check-out Saturday 2 January at 09.00
Daily schedule
Meditation
Tea & Fruits
Yoga
Lunch
Free time
Yin Yoga, Sharing or Excursion
Dinner
Ceremonies, Yoga Nidra or Dance
In case of cancellation before November 26th 2020, we will keep 100% of your deposit as an administration fee. After November 26th 2020 there will be no refunds. We are financially responsible for the retreat, so we ask you to respect that we cannot make any exceptions to this agreement.
In case we or you need to cancel last-minute due to the corona circumstances, like airport is closed or lockdown of your country you will have two options: either direct your deposit to a future retreat or get your deposit refunded minus 150 eu administration costs.
7 nights accommodation
vegan/vegetarian healthy meals
water/tea and small snacks
daily yoga 
daily meditation
breathwork
ecstatic dance
sacred ceremonies
New Years Eve ritual
nature walk
sauna
silent mornings
Not included: international flight, visa's, airport pick-up/drop off, transport, massages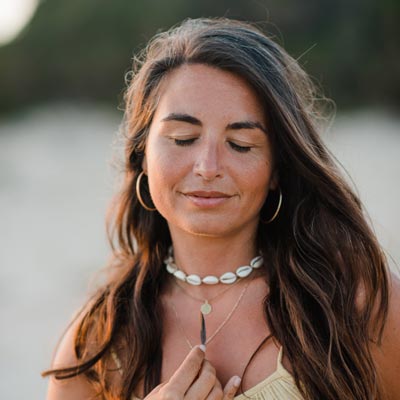 Have a question or want to make a reservation? Send your details and Laura will get in touch with you.
"Just back from the new years retreat. I learned so much about myself, about meditation and also about healthy food in this retreat that I don't know where to start.  Laura is a very kind and heart warming teacher she managed to create a peaceful athmosphere where everybody could be himself and feel free. W The athmosphere was friendly also for beginners. For some attendants the week felt truly life changing. Thanks Laura for an amazing week."
Daniel
"With no previous experience in yoga, I was looking for deep relaxation. The New Years Retreat with Laura was much more than I could have imagined. An inspiring and powerful inner journey and a great feeling of openness and connection to the other members of the group (very nice people!) and also to Ibiza's natural environment. Laura enlightens the room with her simple presence and made everybody feeling at home and comfortable. I loved her yoga classes as much as meditations. I can only highly recommend!"
Valeria
"I chose the The Mountain-Ibiza for my new years retreat 2020. A very special time for me. As an experienced yogi I'm very picky with my teachers and yoga classes. I loved everything about this week, the inspiring themes of the classes, the surroundings, the meditations and ceremonies. Laura is very innovative in her teaching style and her retreats suit both beginners and more experienced. Laura has a natural calm energy around her that makes everyone feel at home."
Mathilde
Several firsts. My first yoga retreat. First real experience of meditation and reflection. And my first feeling of relaxation in 20 years from working in the City of London. Laura and team are experts. Giving the right level of guidance, yoga, meditation and care. Whilst always ensuring attendees had the ability to give their feelings enough space. Training one self to be present sounds easy but needs expert guidance and Mountain Yoga has it in spades. Most fulfilling week of my life. Highly recommended.
Eamon