Created from the Heart
Laura organises Yoga Retreats, Women Retreats, Couple Retreats, (online) women workshops, courses and private yoga classes on Ibiza for those who want to deeply relax, nourish themselves and remember their peaceful nature.
Take a break from your day to day life and nourish your body, heart and soul with The Mountain Ibiza.
Read the story ➞
Nourishing the Feminine
NEW! A 6-week self-paced online course filled with practical wisdom that will guide you to nourish your femininity and reclaim your true essence. Every woman deserves to feel radiant, alive and beautiful. Are you ready to say YES to yourself? Enroll in my course today and fill your self up with all the self care and self love your deserve! 
More information ➞
Deepen the Love, Intimacy and Understanding in your Relationship this winter on luscious Bali. This Couple Retreat is all about bringing the connection between you and your partner to a higher level. Feel seen and loved by your beloved like never before!
More information ➞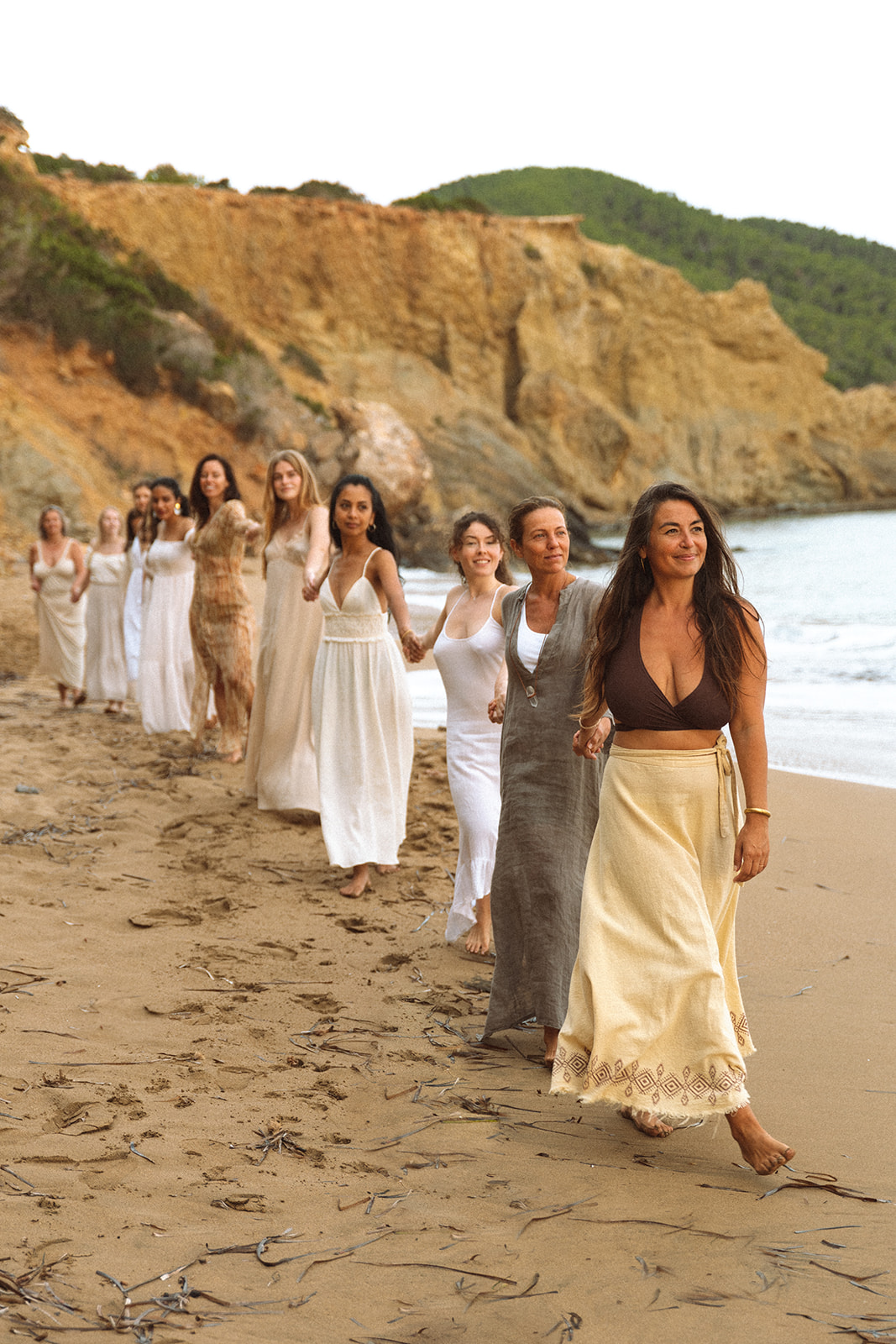 Women Retreat Facilitator Training
Is it your dream to host your own women retreats and circles? After 10 years of facilitating retreats myself I am very excited to share my experience, wisdom and love for this work with you! Step into your leadership with full confidence and become part of the feminine awakening on this planet.
More information ➞
For women and men who are curious to rediscover their True Nature.
View agenda
I feel so grounded and filled with self love. It was so great to share this journey with a group of amazing women. I am so grateful for that! Laura is an amazing teacher and inspiration to get you in contact with your True Feminine nature. Her love and sparkling personality made this week unforgettable!
〜 Romy
An unforgettable and life enhancing experience that every woman should gift herself. Laura is a truly devotional space holder and her programme is created with such nourishing intention, you can safely surrender to the magic that unfolds. If your intuition is calling you here, I would urge you to listen."
〜 Rae
"I came to the retreat burned out and disconnected to myself and my body. Meeting Laura gave me the feeling that I was at the right place to reconnect. I could feel her magical aura from the very first beginning. Laura really made every session special and was the perfect teacher because she is so authentic and truly lives what she teaches. What I learned about feminine power and sisterhood changed my perspective on many things in my life. The whole sourrounding was just perfect – the villa, the food, everything. I could really reconnected with myself again. This retreat will be in my heart forever."
〜 Pia
The True Feminine Retreat is a must for all the women out there and especially for the ones who lost their connection to their feminine side in the modern masculine lifestyle. I came to the retreat with 'feminine burnout' and left with 'feminine charged power' after the support of Laura and my soul sisters in the one week retreat. I definitely look forward to do more retreats with Laura in the future.
〜 Munirah
I feel so blissed and grateful that by coincidence I ended up with Laura and her True Feminine Retreat Ibiza. She is an amazing facilitator who made it possible to connect me again with my female/sensual/sexy side. I feel so much more alive now! The connection with Laura and the other women was so powerful it really felt like true sisterhood."
〜 Patricia