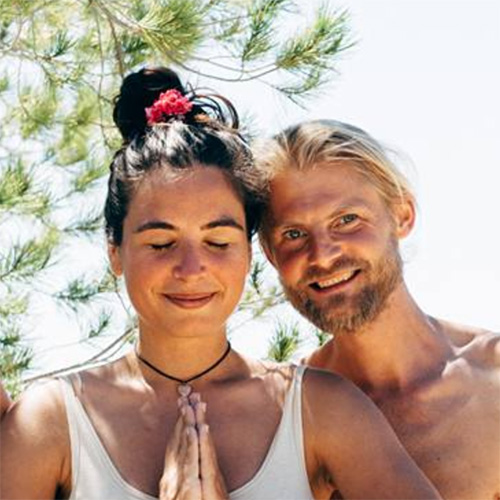 Yoga ⋅ Meditation ⋅ Nature ⋅ Silence
The Mountain Ibiza's True Nature Yoga Retreat on the magical island Ibiza. For beings who like to connect back to nature and their own natural state. This autumn yoga week is on a raw, rustic and authentic location in nature, hidden on a mystic mountain surrounded by forest and silence. An intimate setting were it will be easy for you to ground, connect, relax and remember your joyful Essence.
What to expect
Experienced and passionate Yoga teachers Laura Tabrizi & Wouter Smit welcome you for a week full of Relaxation and Joy on and off the yogamat, that allows you to be You! Through daily yoga & meditation, nature walks, silence, self-inquiry, singing and dancing you are invited to open up, feel free, alive and above all your True Self.
We take you to beautiful beaches and places in nature to walk, contemplate and just be. We give you a deeper understanding of yoga & meditation, to relax and just be. We invite you to dance and sing with us, to fully enjoy yourself and just be. We inspire you to live a life that resonates with your heart and just be!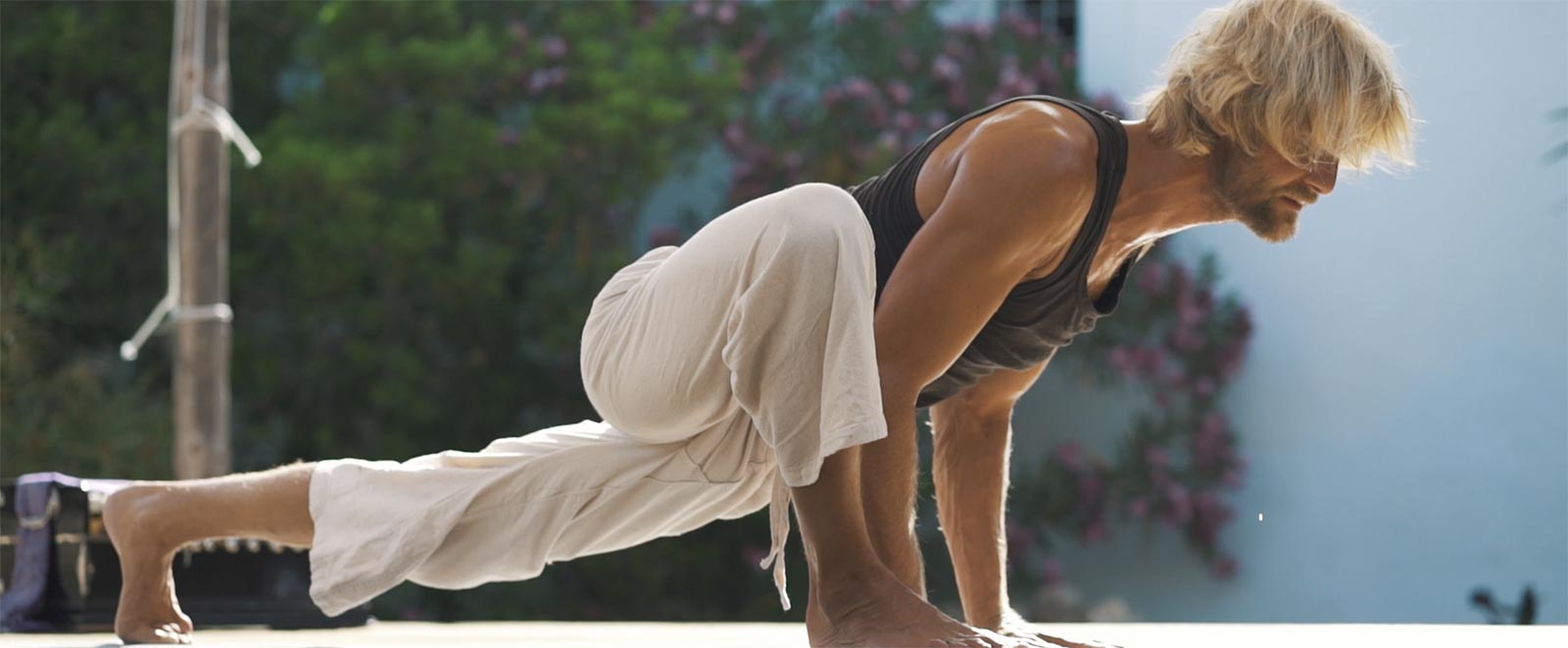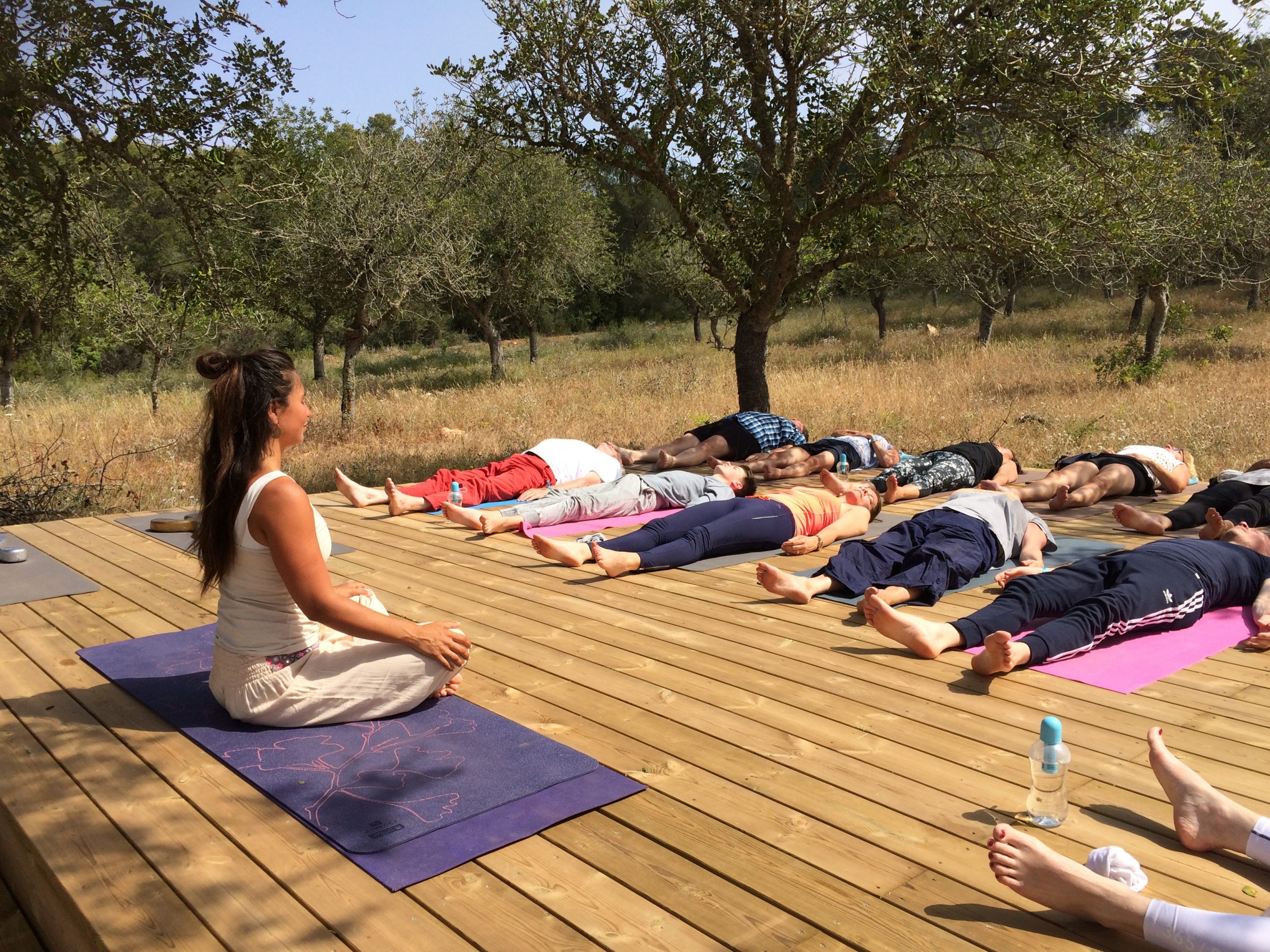 For who
For you! Being outside, with your bare feet on the ground, living a simple life in nature will help you to become more silent inside and recognize who or what you are beyond the limiting thoughts and beliefs you have about yourself. We invite you to dive deep within and discover what is blocking you from being happy, at ease and in peace with yourself. The key to happiness is simple, once we start to see that it is only the mind that creates confusion and problems. This Ibiza Yoga Retreat is for you to rediscover your authentic Self, or what we like to call our True Nature!
This amazing yoga week will be a back-to-basic experience with simple clean accommodation and divine healthy vegan food by our chef. Its a perfect opportunity to learn appreciating a simple life, with little distractions, in flow with nature. We like to create a community like space were everybody can be themselves and enjoy together! To get most out of your Ibiza Yoga retreat, we encourage you to stick to our vegetarian/vegan diet and not to drink any alcoholic beverages during this week.
The retreat is for people from all levels of yoga and especially for those who wish to have a deeper understanding of who they are. Feel welcome and come Home!
Location Yoga Retreat Ibiza – October 2019
The Ibiza True Nature Yoga Retreats 2019 take place at CAN TIERAGUILLA, an old, authentic finca on a mountain close to the beautiful beach of Cala St. Vicente. Surrounded by raw nature this unique spot is a true paradise. There are plenty of places around the house to relax and retreat, such as various chill-out terraces and a big forest. The good vibes in the warmly decorated house will make you feel at home immediately. There is no swimming pool, but there are gorgeous beaches nearby if you want to take a swim!
We recommend you to rent a car for the week, so you feel free to move around and discover more of the island. Rooms and bathrooms during our Ibiza Yoga Retreats are shared with 2, 3 or 4 people. (If you prefer a private room, ask us for the possibilities.) Looking forward to see you there!!
Daily schedule
Pranayama & Meditation
Breakfast Smoothie
Vinyasa Yoga
Lunch
Free
Nature Excursion
Workshop or Yin Yoga
Dinner
Retreat price
Yoga Retreat October
€950,-
p.p. shared room
True Nature Yoga Retreat Ibiza
Book now
Contact us
7 nights accommodation
vegetarian healthy meals
water/tea and small snacks
all yoga and meditation classes
nature walks
silent days
kirtan night
sharings
Not included: flight, transport from/to airport, excursions, massage
"

I honestly can't describe how perfect and magical the week was. I attended the True Nature retreat in May and everything from the location, accommodation, food, schedule, class styles and themes, experiences literally everything was perfect!

Heather Capocci
Just back from the True Nature Retreat may 2018, I've truely had an amazing experience with Laura and Wouter. The combination of being in nature, focus on your true nature, great atmosphere, lovely yoga classes wonderfull people and energie makes it that I'm still glowing full of energie while back home.
Susan Dubbeldam
The 'Home in the Heart' retreat was a very special and heart-warming experience in a beautiful place surrounded by nature. Laura & Wouter are beautiful people and an inspiring couple sharing their dreams, wisdom and passion.
Malu Hilverink