Deepen the Love, Intimacy and Understanding in your Relationship.
This retreat is all about bringing the connection between you and your partner to the next level, a Divine level!
Our relationship can be an endless source of growth, joy, bliss and fulfilment. And oftentimes our relationship starts out that way, but over time it usually loses some of its glow and splendour. Some of us might simply accept this as a given fact, while others might see this as a cue to start looking elsewhere, only to meet the same difficulties over and over again.
 A relationship, however is very much like a living entity, it needs attention, food and nourishment to stay alive, healthy and buzzing with energy.
In this retreat we will experience how we can keep our relationship healthy and even allow it to Thrive. For example by seeing and releasing the tendencies we have that are not serving the wellbeing of the relationship and by showing you ways that  are essential to keep our connection open and clear.
We feel that when you create time to really be with one another, when you are present enough to really see and hear your partner, our relationships become sacred and give rise to profound experiences of unity and fulfilment.
What to expect
We welcome you to one of the most magical and transformative islands in this world, Ibiza!
Our days here are designed for you two to have some real quality time together in a safe, supported space and beautiful surrounding. We stay in a newly renovated rustic villa surrounded by nature, with romantic double rooms with bathroom ensuite and gorgeous views. Here it will be easy for you to unwind, relax and connect with your partner on deeper levels.
Every day there is a program for you to explore together how to raise your energy, harmonise your relationship and deepen your intimacy.  You learn how to see through your 'conditioned way of relating' and move into a more expanded version of your couple.
We have daily morning yoga and meditation sessions to first of all drop into our own bodies and connect to ourselves before we start to connect with each other, a very important key in creating a Sacred Couple space.
During the rest of the day we dive into couple practices, sacred rituals and ceremonies, sharing circles or go on excursions to magical spots on the island.
Our intention with this program is to create more awareness about love, sex and relationships. Because there is so much to discover and learn within and through a relationship. It is even said that our relationship is the highway to our spiritual growth!
(*Note:There will be no classical nudity during this retreat.)
After this retreat you will feel loved, seen and adored by your self and your partner!
For who
If your relationship feels dull and lifeless at the moment and you both feel the wish to revive it, this retreat is for you.
If your relationship is going great and you want to keep growing and evolving together by learning tools to deepen your connection even further, this retreat is for you.

If you haven't had much time for each other because of your kids, your work or personal issues. This is the perfect opportunity to create some well deserved quality time together.

If you two just met recently and want to have the best possible start of a dedicated relationship.
We believe that devoting entire days to each other is one of the greatest gifts you can give each other and will ignite the Love once again.
This retreat is for all couples who like to deepen their connection, deepen their intimacy and deepen the understanding about the masculine and the feminine and how they compliment and stimulate each other.
Note: If you choose to come to our retreat, it is important that you are BOTH committed to the expansion of your self and the couple.
The Sacred Couple
A couple can be called a Sacred Couple when both parties make a strong commitment to Love. They know that their Union is made to serve each others evolution. They are aware that mind grooves will cause disturbances, but they also know the underlying love and trust that it is always here.
To reach that love over and over again, efforts are done to understand the workings of the mind, to see, transform and to heal the underlying trauma that lies at its base.
When both partners dedicate their path together to love and expansion their relationship becomes Sacred. 
Highlights
Connection with your partner
Quality time for the couple
Being instead of Doing
Deepening in Love and Understanding
Daily Yoga and Meditation
Tantric couple practices
Empowering Women and Men Circles
Healthy Vegetarian Meals
Learning about Sacred Sexuality
Authentic sharing circles
The art of giving and receiving
Sleeping in luxury villa with pool
Ceremonies and Sacred rituals
Cacao Ceremony
Excursion to magical rock Es Vedra
Free time to enjoy this paradise
About your hosts
We, Laura Tabrizi and Wouter Smit, are honoured to be your hosts for this week. We have been a couple for seven years and in these years we kind of have faced it all.
"Trials and tribulations, heart aches and pains, and we are still here"- Prince 
And stronger than ever we might add!
There were times that the tensions were so strong that we had to move away from each other and spend time apart, only to find each other again when the storm clouds passed. 
Five years ago we were blessed with our wonderful daughter, which we see as the fruit of our Love. The mutual love we feel for her is truly an extra stimulus to try our bests to make things work and solve our disagreements at all times.
Her arrival, however also brought new challenges, our daily tasks intensified, our personal rhythms changed and oftentimes it was hard to find couple quality time in the midst of it all. But through some persistence and some trial and error eventually we've found a beautiful balance, between parenting and keeping the intimacy alive.
Our Sacred Union is dedicated to Truth, Love and Beauty.

May we create a ripple effect of Love in this world through our devotion to each other and inspire many couples along the way!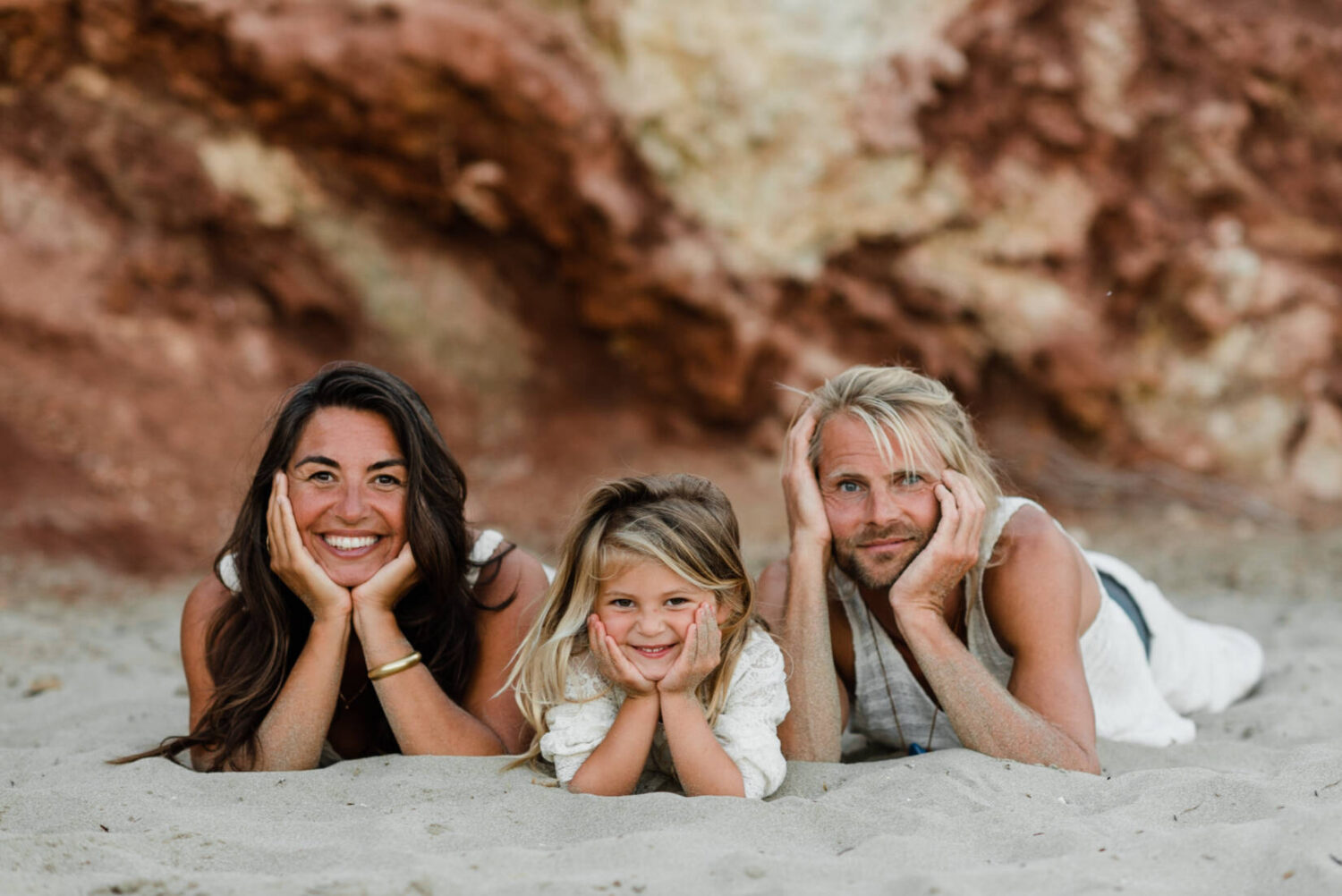 Meet Laura
"It is my calling to help women remember and reclaim our feminine wisdom, power and beauty"
Laura's spiritual path started already at a young age, she has been practicing and teaching yoga and meditation from when she was 19 years old. The past 7 years she is been hosting Yoga and Women Retreats on her beloved islands Ibiza and Bali. She is a certified Ashtanga Vinyasa Yoga teacher, completed Priestess School Trainings with internationally renowned tantra teachers and has a deep passion for Feminine Embodiment practices and Sacred Rituals.
Laura  also facilitates online women circles and workshops to awaken the feminine essence in women. She believes every women deserves to remember who she truly is and needs to unlock and reclaim her gift of being a woman.
About 5 years ago Laura was initiated into Motherhood. This was when her fascination for the power of the feminine actually started. Being pregnant, giving birth and taking care of a child have all been huge initiations into understanding and experiencing the power and magic of the feminine body.
Laura is in beautiful contact with both her soft and powerful feminine energy and a true inspiration for many women around her. Living from the Heart and connecting to the deep feminine waters of the Womb come very natural to her.
Now she wishes to empower other women to reclaim their inner power, beauty and wisdom and encourage them to express it in this world without holding back. Because to her there is nothing more beautiful than to see a woman shining her Light!
Meet Wouter
" I am here to help you remember your life is sacred. You are the medicine creation craves for. Find it, own it, Be it…"
Wouter's spiritual path started in a flash in his twenties, after a powerful experience of awakening.
For years he was emerged in shamanism until he fell in love with yoga. For several years he hosted True Nature Yoga Retreats together with Laura on his beloved island Ibiza. After teaching yoga for many years he came into contact with tantra. The emptiness of yoga, filled by the fullness of tantra completed the circle.
Now he is eager to share from his experience from all these fields of teaching to lift up the spirit of those who are ready to wake up to their true nature.
Location Sacred Couple Retreat Ibiza – May 2022
The Sacred Couple Retreat on Ibiza takes place in a beautifully renovated finca located on top of a mountain in the very quiet and peaceful Benimussa valley and is within easy reach of the west coast beaches, the airport and Eivissa.
The space, tranquility, stunning views over the valley and breathtaking sunrises will instantly seduce you into a space of relaxation. The place has several hang out terraces, lots of privacy, a swimming pool with a large floating sundeck, a fully equipped outside kitchen, yoga studio and a petanque court. Besides the main casa there are five other casitas, providing in total seven bedrooms for two people, each with its own bathroom.
Private Double room with ensuite bathroom, price p.p €1555,-
It is about 20 minutes drive from Ibiza Airport to the retreat venue. It is recommended to rent a car for the week, if you want to feel free to move around and discover more of the island during your stay. Ask us for the best deals.
Looking forward to see you here in Ibiza paradise!
Check-in Saturday 21 May 16.00 o'clock
Check-out Thursday 26 May 11.00 o'clock
Daily schedule
Yoga and Meditation
Breakfast
Sacred Couple practices
Lunch
Free time
Excursion or Ceremony
Dinner
Sharing or Ritual
5 nights accommodation in double room
private bathroom and terrace
daily vegetarian healthy meals
water/tea and small snacks
daily yoga & meditation
couple practices
cacao ceremony
sacred rituals
excursion to magical nature spots
Not included: international flight, visa's, transport, c-tests.
In case of cancellation before March 14th 2022, we will keep 100% of your deposit as an administration fee. After March 11th 2022 there will be no refunds. We are financially responsible for the retreat, so we ask you to respect that we cannot make any exceptions to this agreement.
In case we or you need to cancel last-minute due to the corona circumstances, like airport is closed or lockdown of your country you will have two options: either direct your deposit to a future retreat or get your deposit refunded minus 150 eu administration costs.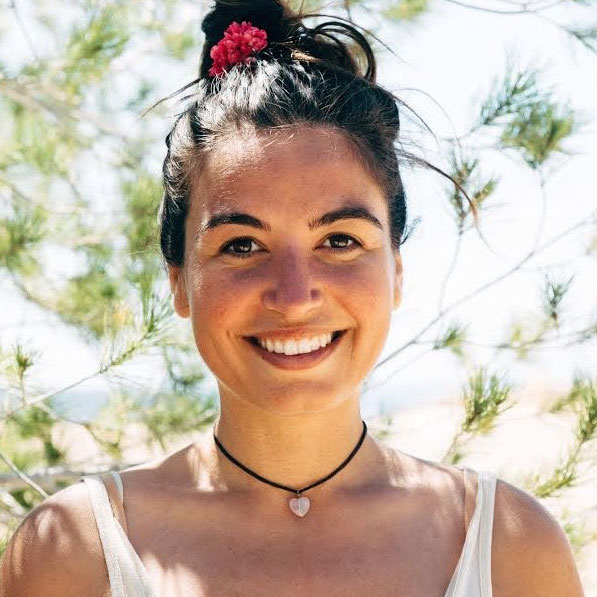 Have a question or want to make a reservation? Send your details and Laura will get in touch with you.
"

The retreat with Laura and Wouter was a really magical experience. From the moment of arriving I was greeted with such love and open hearts. Days flowed by filled with inspiring and relaxing yoga, meditation, daily rituals and ceremony's. Laura and Wouter created a beautifully held space, the perfect way to start a new year! Highly recommended!!
 

"
Michelle - UK
"

I decided to follow my heart and inner guidance and traveled to Ibiza (in the middle of a pandemic) to attend the New Year's yoga retreat. I'm so grateful for Laura and Wouter for being an embodiment of what it truly means to live from the heart. The week ended up being a very profound experience to me and catapulted my spiritual journey to the next level."

Oona - Finland
"Several firsts. My first yoga retreat. First real experience of meditation and reflection. And my first feeling of relaxation in 20 years from working in the City of London. Laura and team are experts. Giving the right level of guidance, yoga, meditation and care. Most fulfilling week of my life. Highly recommended."
Eamon - UK