Women Yoga Retreats Ibiza
True Feminine Retreat Ibiza
24 April -1 May 2021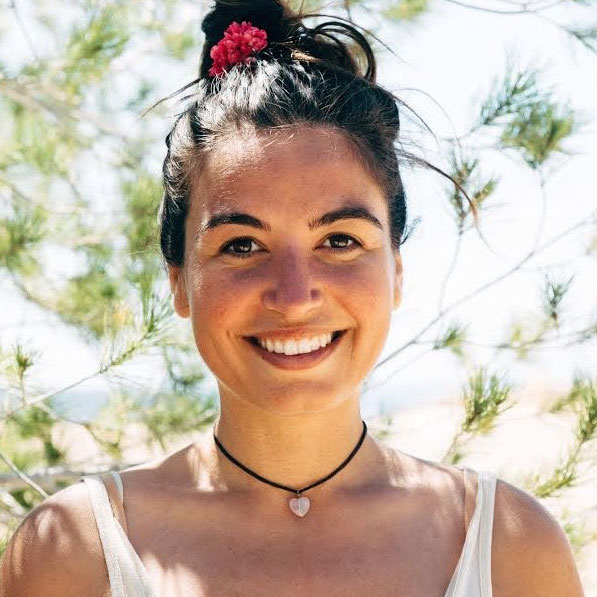 Remembering your True Feminine essence
This Ibiza Women Retreat is about stepping into the soft power of your feminine nature. Do you feel the time has come to reconnect with the Sacred Feminine and set free the radiant, wise and powerful women that you are? Do you feel called to the awakening of the Feminine and live your life to its fullest potential?
I warmly invite you for an empowering week of discovering who you truly are beyond all conditioning and limiting beliefs you have about yourself and help you remember your authentic natural beauty, the ever present glow that rises from within.
Let us root our feet in Mother Earth, align our Heart with Spirit… breath… feel… and come Home.
What to expect
I welcome you to one of the most magical islands in this world, Ibiza! For centuries people feel drawn to this island in the mediterranean sea because of her special energy. Laura believes it is the magnetic feminine energy that makes you never want to leave from this true paradise.
Ibiza is sensual, wild and free. Just like you when you are truly connected to your sacred femininity! The island invites you to really be yourself and follow your Heart. What is it that brings you joy? What is it that you desire? How can you live your full potential?
If you are ready to find out then I love to welcome you on my True Feminine Retreat. Expect a transformative journey that will change your life forever!
I believe living the life you desire all starts with creating a loving relationship with your self. I am here to help you remember who you truly are, I am here to let you experience your True Feminine Nature. How? By first of all falling in love with your body and finding ease in who you are. Accepting your self on all levels. My invitation to you is to fully own, embrace and celebrate your femininity. You came to this earth in this magical female body, so let me show you how to fully enjoy it! Move out of your limiting mind and dive deep into the body, into feeling and finally dissolve into the bliss of simply Being.
An intimate group of women will gather here from all over the world to shamelessly enjoy ourselves and to create real sisterhood. Empowered by Ibiza's Goddess Tanit's energy, who is also known as a guardian of womankind you will for sure feel safe and at ease here. Tanit is the Goddess of the Feminine, Love, Sexuality and Fertility and has her ancient cave of worship and wisdom here on the island.
Daily yoga sessions, morning dance meditations, sacred ceremonies, women circles, nature walks, Es Vedra, sauna, pool, nourishing healthy meals and lots of love & laughter; all ingredients are here to make you glow inside and out.
When women gather, magic happens! Together we tap into a greater field of energy, a field of infinite possibilities….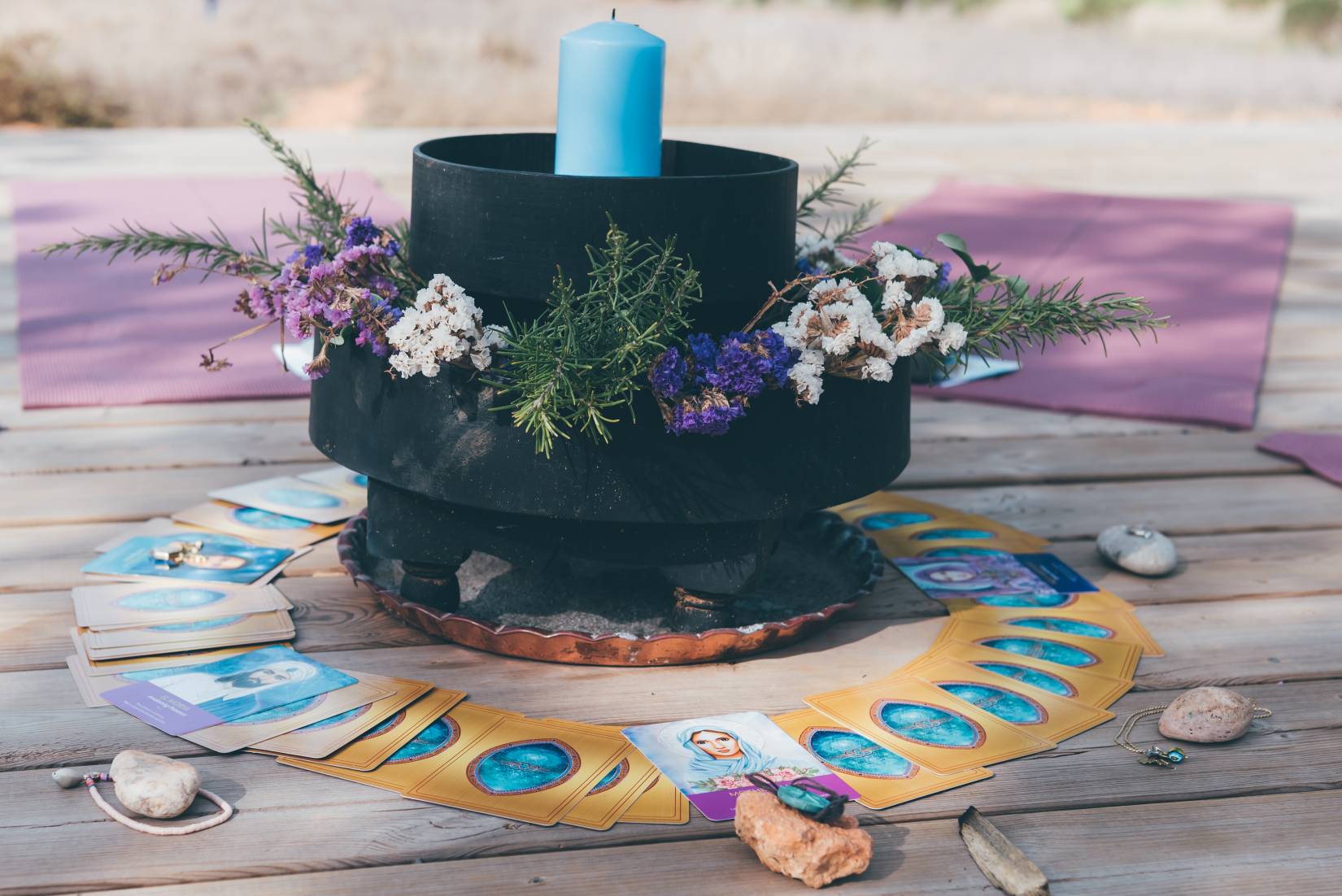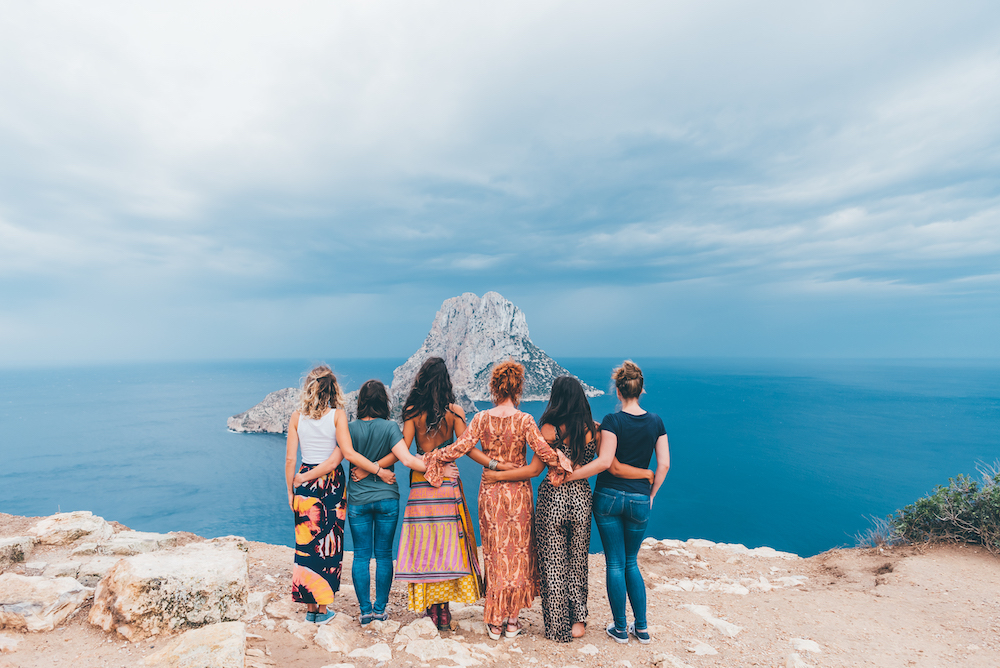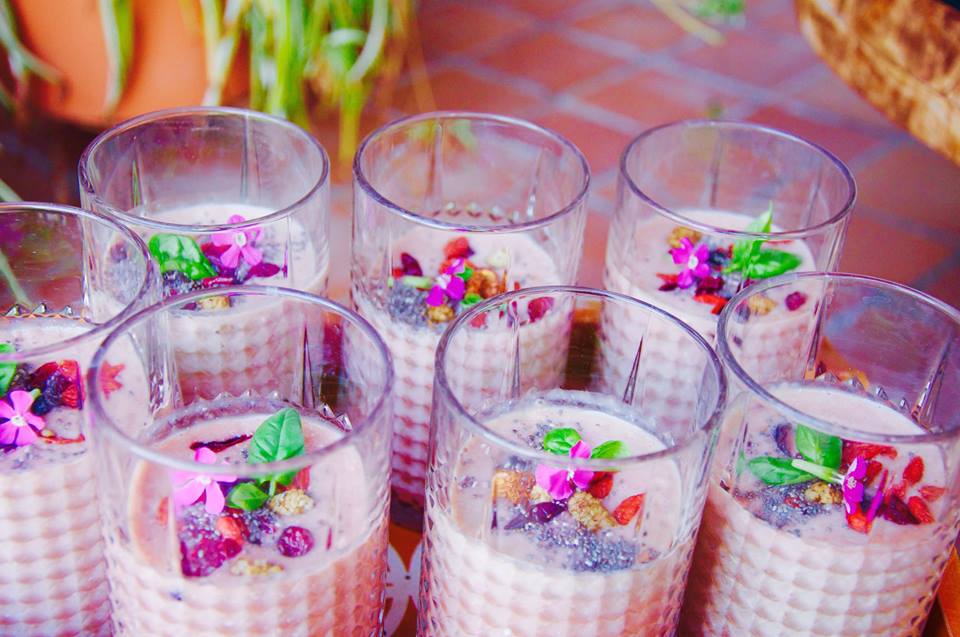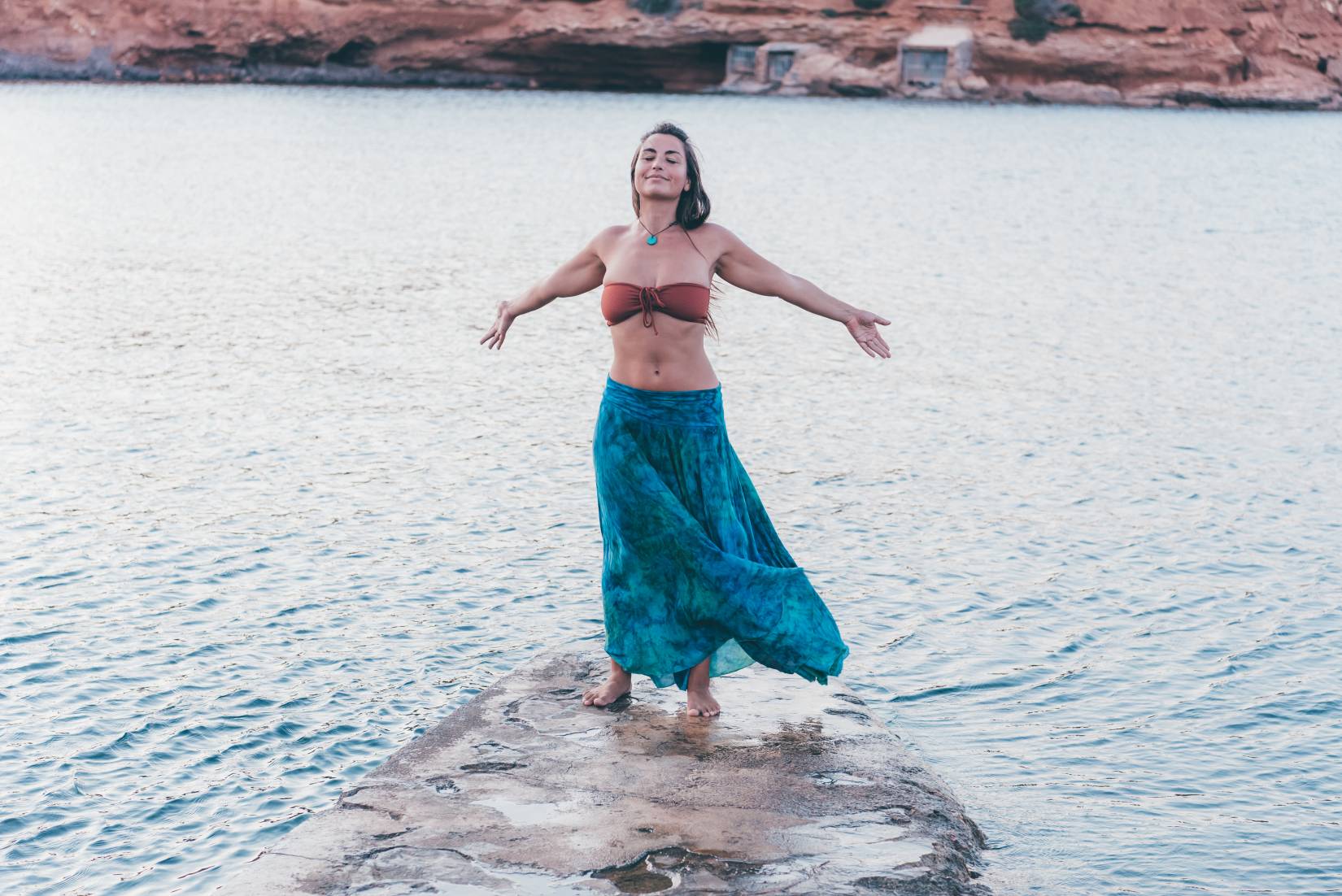 Upload Image...
For who
This retreat is for all women who want to (re)discover their sensuality, beauty and radiance. Women who want to live life to its fullest potential. Women who want to break with the chains of society and life long conditioning and are ready to be free. Free to express themselves in this world in their most pure and authentic way. Women who know it is time to meet our own needs.
If you long for taking more time and space for yourself, nourish yourself, discover yourself  and above all: Be yourself, you are so very welcome beautiful sister!
Dive deep within your sacred femininity with me and experience how it is to feel radianlty alive. There is a creative force in all of us, longing to be expressed. Let this inner power be revealed to you and invite creativity, pleasure and joy back into your life.
Ibiza is the perfect paradise to unwind your mind, deeply drop into presence and have some well deserved me-time to reconnect with the beauty and bliss that you are.
"Presence is what allows us to be deeply connected to all of life, Presence is what allows us to give up the way we think it should look like,
and accept what is.

Let us celebrate the rise of the divine feminine
in all her glory, grace and grit,
in her many facets and forms, and
in her brilliance, beauty and boldness. "
Highlights
Celebrating Womanhood and Sisterhood
Being instead of Doing
Connecting with your True Self
Relaxing and Heart opening Yoga
Morning dance sessions
Empowering Women Circles
Nourishing Healthy Meals
Breathtaking sunsets
Beautiful nature walks
Luxury villa
Infinity pool and sauna
Water Ceremony
Excursion to magical rock Es Vedra
Free time to enjoy this paradise
About your host
Laura Tabrizi is your space holder this week. She created this True Feminine Yoga Retreat because of her passion and fascination for the power of the Feminine, an endless source of creation and beauty.
Laura's spiritual path started already at a young age, she has been practicing and teaching yoga and meditation from when she was 19 years old. The past 7 years she is been hosting Yoga and Women Retreats on her beloved Ibiza and Bali. She is a certified Ashtanga Vinyasa Yoga teacher, completed Priestess School Training and has a deep passion for Feminine Embodiment practices like dance and sacred rituals. Laura facilitates online women circles to awaken the feminine essence and power in as many women as possible. She believes every women deserves to remember who she truly is.
Four years ago she was initiated into Motherhood and now she is the proud mother of a beautiful daughter. Laura comes from a family of women in which there has always been place for the feminine energy to be freely expressed. Laura is in beautiful contact with both her soft and powerful feminine energy and a true inspiration for many women around her. Living from the Heart and connecting to deep feminine waters of the Womb come very natural to her. Now she wishes to empower other women to reclaim their inner beauty, power and wisdom and encourage them to express it in this world without holding back.
"I see it as my calling to help you remember your feminine power, beauty and deliciousness!"
"I am not a super woman, guru, goddess or even like to call myself a teacher. I just share with you my Love and dedication to discovering beauty and Truth within ourselves. I hold space for those who also feel called to reconnect and merge with our True Nature – the source of infinite Peace and Joy. – Laura"
Location True Feminine Retreat Ibiza – April 2021
The True Feminine Retreat on Ibiza takes place in a stunning and spacious luxury villa  located on the west (sunset side) of the Island. Surrounded by mountains, blue sky and sea, the view and feels here are breathtaking!
There is a huge outdoor wooden yoga deck that overlooks the pool and ocean. But if the weather is not pleasant enough to practice yoga outside we retreat to the cozy indoor living space (100m2)  in front of the fire place.
There are several room options available with different prices. You can choose to stay in a Shared Twin or Triple room, a wooden bungalow or book your Private room. Ask us for availability. All rooms have a bathroom en-suite, AC/heater and a balcony.
Shared Twin Room with ensuite bathroom, price p.p €1450
Private Double room with ensuite bathroom, price p.p €1900
Shared Twin Master Bedroom with Jacuzzi, price p.p €1550
Shared Triple room with ensuite bathroom, price p.p €1400
Wooden Cabin Shared Twin, ensuite bathroom, price p.p €1300
Wooden Cabin Private, ensuite bathroom, price p.p €1650
The house has a large living space where you can nestle in front of the fire place with a book or just rest. And there is a beautiful garden with infinity pool, Jacuzzi and sauna.
It is about 25 minutes drive from Ibiza Airport to the retreat venue. It is recommended to rent a car for the week, if you want to feel free to move around and discover more of the island.  It would be great if you can team up with other participants and rent a car together to get to the house. Ask us for the best deals.
Looking forward to see you here in Ibiza paradise!
Check-in Saturday 24 April from 17.00 
Check-out Saturday 1 May from 10.00
Daily schedule
Yoga and Meditation
Breakfast
Women Circle/Ceremony
Lunch
Free time
Yin Yoga, Excursion or Ritual
Dinner
Sharing or Music
7 nights accommodation
vegetarian healthy meals
water/tea and small snacks
daily yoga & meditation
ecstatic dance sessions
sacred ceremonies
nature walks
women circles
dance/music night
1 divine massage
excursion to Es Vedra
visit to Goddess Tanit's Cave
Not included: lunch and dinner on Wednesday, massages, international flight, visa's, transport.
In case of cancellation before February 24th 2021, we will keep 100% of your deposit as an administration fee. After February 24th 2020 there will be no refunds. We are financially responsible for the retreat, so we ask you to respect that we cannot make any exceptions to this agreement.
In case we or you need to cancel last-minute due to the corona circumstances, like airport is closed or lockdown of your country you will have two options: either direct your deposit to a future retreat or get your deposit refunded minus 150 eu administration costs.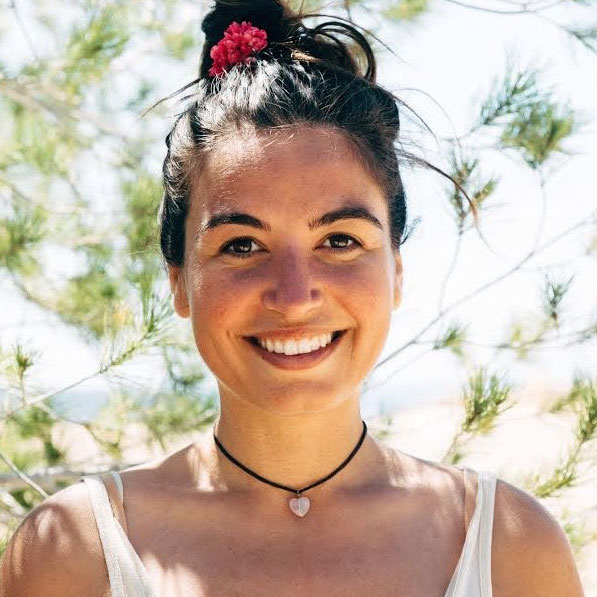 Have a question or want to make a reservation? Send your details and Laura will get in touch with you.
"The best holiday ever! We had amazing week in beautiful Bali with seven women all over the world sharing magical moments together. Good yoga, beautiful house, delicious vegetarian food, liberating dance mediation, pampering massages, magical women circle

etc. Laura is a glowing and loving teacher and host. Strong recommendation!

"
Taina
"

Dear Laura, Even though I never ever had any yoga lesson you made me feel comfortable. You made me believe in my own body, my strength and power.

The meditations were deep, intense and made me feel complete, gratefull and loved. Thank you so much for this amazing experience, I will never forget this, I will never forget you.

Denies
If you are looking to dive deep into yourself, explore your femininity, self-love, sorority and conditioning as a 
woman, this retreat is for you! Laura creates a beautiful space to share the ancient wisdom of the feminine, to spoil our senses, to reconnect to the heart and to face the resistance of the mind and the limits of the body.
Dara